Sleator Plant
About
We are strategically located just off the M2 motorway, north of Belfast and soon we will open a secondary depot just off the M50 beside Dublin Airport so we can comfortably service all 4 corners of the island.
Since 2015 we have carefully developed the business to incorporate world class OEM partners with our vision to be the leading construction dealer in Ireland.
We firmly believe the people at Sleator are our most important asset and each person has a strong contributing value to the growth of our business.
At Sleator Plant we actively promote a value for money service so customers get 100% satisfaction every time!

Genie:
We are the sole Genie access equipment dealership in Ireland, supplying access platforms and lifting equipment including material lifts, aerial work platforms and scissor lifts. We also supply the larger range of Genie access machines including the tracked boom lift and telescopic boom lift. Aside from the Genie machines we stock, we have an extensive stock of Genie parts and accessories.
Rokbak:
We are the Rokbak Trucks dealer for Northern Ireland, supplying the world renowned range of articulated trucks, Rokbak Trucks are the true off-highway truck specialists and our manufacturer trained team are always on hand and happy to help. With a fully operational workshop and parts store, we supply genuine Rokbak parts for all your Rokbak machinery needs.

Mecalac:
Sleator Plant are Mecalac Construction machinery stockists for Northern Ireland. We specialise in the Mecalac range of backhoe loaders, dumpers and site rollers and offer an efficient and professional service at all times. Our workshop team are manufacturer trained and we stock a large inventory of 100% genuine Mecalac parts enabling us to provide the service our customers deserve.
Sany:
The most recent addition to the Sleator Plant machinery line up and perfectly completing our offering is the Sany range of excavators. Sany are the fourth largest manufacturer of machinery in the world and Sleator Plant are pleased to be able to supply the whole of Ireland with the quality range of excavators, ranging from 1.6 Ton to 50 Ton. With reliability and sheer power built into the heart of every Sany excavator, the manufacturer are making an impact around the world. Sleator Plant are official dealers for the whole island of Ireland from our depot in Mallusk, Northern Ireland. Soon we'll have a new purpose built depot in North Dublin.
Visit Website
Contact Us
Head Office
607 Antrim Rd
Newtownabbey
BT36 4RF
Visit Website
Latest news from around the group...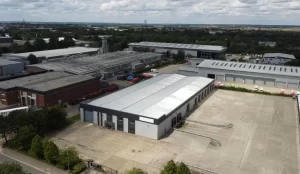 Intercounty Truck & Van are thrilled to announce that we now have secured our new Mercedes-Benz Van Truck and Coach location in Dunstable.  Coming soon
Read More »