Intercounty Truck & Van
"You are our driving force. Your vehicles are simply our passion"
When it comes to your vehicle, reliability and performance are essential. That is why at Intercounty, we want to provide a partnership that will face up to the commercial challenges of today. We work hard to ensure the products and services that we deliver perform for you and keep you moving in the right direction.
Intercounty Truck & Van Ltd has been operating as a Mercedes-Benz franchise for over 15 years, now covering the five counties of Northamptonshire, Cambridgeshire, Buckinghamshire, Bedfordshire and Lincolnshire with dedicated commercial vehicle dealerships to support our customer base.
Our technicians, sales teams and back office support all share the same goal; to deliver an unrivalled customer experience, adding value through our products and services. Whether you run a single van or hundreds of trucks, Intercounty has the expertise across a diverse customer portfolio to offer the best service.
Visit Website
Contact Us
Head Office
Intercounty Truck & Van Limited
C/O Ballyvesey Holdings Limited
Stewarts Rd
Finedon Road Industrial Estate
Wellingborough
NN8 4TR
Visit Website
Latest news from around the group...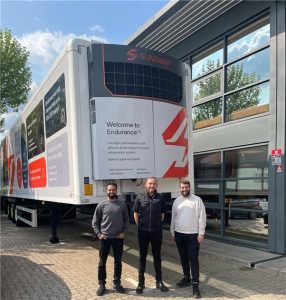 Sapphire Vehicle Services has been announced as the new maintenance provider to innovative solar-powered transport refrigeration unit manufacturer Sunswap. With more than 15 years of
Read More »